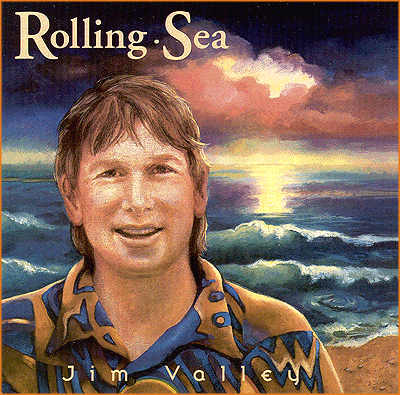 Released in 2002, "Rolling Sea", is a compliation of songs for adults that nourishes the soul and sets the feet tapping. Kids love this music too!

SONGLIST:
| | |
| --- | --- |
| Something Else | Some Silver Morning |
| Feel Good | Time Is On Our Side |
| Rolling Sea | Long Lost Friend |
| Garden Bower | Street Dancer |
| Heartlaugh | Moonglow |
| Gates of Paradise | Wonder |
| Dance With Me Tonight Natural Man | |

Sample Jim Valley's "Rolling Sea"
Please visit www.JimValley.com.



REVIEWS:

"Wow! Jim is incredible! The voice is amazing. The songs are all so uplifting and wonderfully produced. I love the 'good vibe' feeling of all Jim's music. He must have done something really, really right... look who he turned out to be! Just a big ol' honkin' delight"
If Jim Valley's voice was a flavor, it would be something like melted butter and warm honey on a blueberry scone. If his voice was a color, it would be that smokey lavender only found in Sterling roses. Whether applied to a ballad or a rockin' celebration of joy, Jim's voice has a way of reaching right through the listener's ear to their heart, grabbing a hold and bringing forth full feeling. Rolling Sea is filled with joy - from the quietest to the dancin'-est.
With exceptional musicianship and production values, Jim's songwriting talent and oh, that voice!, Rolling Sea is timeless music and healthy heart food."
Pamela Polland
Maui, Hawaii
---

Jim's influences from the fifties to today are infused into his original songs.They have catchy music, memorable lyrics, hooks to hum and a keen sense of fun. Jim and the band sound like they were wearing huge smiles as they recorded this.The musicianship is supurb throughout, especially when Denny Goodhew cuts loose on his sax.
Suprisingly, although famous for his guitar work with the Viceroys, Don & The Goodtimes and Paul Revere & The Raiders (he was the lead guitarist on "Great airplane Strike"), Jim Valley's main instrument on this CD is the piano. His fingers are quite nimble and his style shows influences of Randy Newman, Van Morrison and Jackson Browne. The performances, arrangements and production are flawless. Jim's vocals are full of heart and soul warm, vibrant and throughly enjoyable. The CD is available only through his website at www.jimvalley.com. "Rolling Sea" is a must own CD for those that enjoy good adult contempoary music."

J.R. Wolfe
Denver, Colorado
---
"OK, there is not a weak song on this CD! The whole experience is very life-affirming, very positive. I still think "Moonglow" might be my fave, but that may change. "Rolling Sea" (the song) is really a wonderful song, too. And "Garden Bower" has a killer upright bass on it. "Heartlaugh", "Gates of Paradise"... just wailin' songs! The overall fell of the whole CD is just a positive, good feel... kudos to Jim Valley!"

Sioux (Teeny-booper Runaway Child) "Everlovin" Chicka
Portland, Oregon
---

"A joyful romp, a happy place, a jazzy trip, lots of fun with a touch of quiet reflection. Stories abound. I am enjoying it."
Dave Child "Boss Dude"
Portland, Oregon
---
"Those of us who have heard these songs in Jim's living room and have urged him to get them out to a wider audience are vindicated by this CD. Rolling Sea reveals a first-rate song craftsman and soulful artist that deserves to be heard. This album is a joy from first note to last. Like fine wine, Jim just keeps getting better and better."
Russell Holster Jr.
Northwest Music Network