The Rainbow Planet Workshop is a cooperative adventure in creative expression for children and teachers. Song writing, group singing and movement are explored through themes of friendship, nature, culturality and imagination.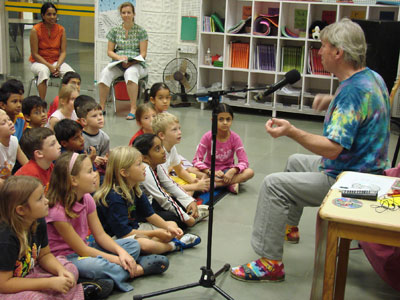 Rainbow Planet Workshops range from one day to a weeklong residency. A one day program includes: Three 40-50 minute sessions divided by grade level –OR-- two sessions with a culminating assembly.
In a weeklong residency, Jim will meet with each group two to three times, depending on the size of the school. At the end of the week, Jim will lead a culminating celebration where grades or classrooms present their new songs with movements.
During the sessions, Jim weaves student's creative writings into wonderful songs and leaves a recorded CD with the school. His ability to compose melodies on the spot amazes everyone! Then we sing and dance and learn sign language to other Rainbow Planet songs, many of which were created by children from different parts of the world.
An evening family concert is also a popular option. It's a great opportunity to bring families together, create community and happy memories. Jim involves everyone singing and moving to Rainbow Planet songs, including some old favorites . . . Splish Splash, Hand Jive, Johnny B. Goode . . .
Tips for Planning a Workshop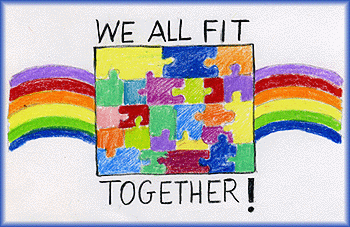 Familiarize your students with some of Jim's songs.
Create a cooperative classroom poem on any positive topic, such as friendship, imagination, the environment or tolerance. Jim will set your poem to music and record it for your classroom.
Create a cooperative poster with a friendship slogan or theme of your choice.
Upon scheduling, you will receive a packet that includes a CD of Rainbow Planet songs, and a workshop format which includes creative ideas to use in your classroom. Please download the Rainbow Planet Workshop Format for more detailed information. Click here for Lyrics and Movements. See Rainbow Planet Posters for ideas.
Appreciating Diversity: A Workshop for Anti-Bullying
One of the many benefits of a Jim Valley visit to your school is the extraordinary way in which Jim can personalize his workshops to fit a theme or need you may have with the students, teachers and families in your school. Listen to the song "Culturality", for example. Through music, which appeals to all ages ~ both the young and young at heart, Jim can encourage and guide his audiences toward important discussions about the value of diversity and treating all people with kindness, thus helping to create a bully-free environment.
While it's true that most young children do not naturally engage in disrespectful behavior toward one another, it's equally true that negative messages about cultural and social differences continue to be pervasive in our world; and unfortunately, children do absorb these attitudes and behaviors. Consequently, it is especially important for teachers and parents to find effective ways to help children "unlearn" these negative ideas.
A Jim Valley Rainbow Planet Workshop is an ideal way to address, in an open and non-judgmental manner, concepts of acceptance and respect for all people. His workshops facilitate teachers and children in tackling difficult concepts in an atmosphere of friendship and fun. Through music, song and dance, children learn how to develop positive relationships and support for each other through acts of kindness and acceptance of differences. Children learn how to take a stand against bullying. Jim Valley's music and messages resonate with children and adults in positive life-shaping and life affirming ways.
Wendy Givan
Former Elementary Teacher
Equal Opportunity/Diversity Officer, Kenyon College